The window cleaning SOLUTION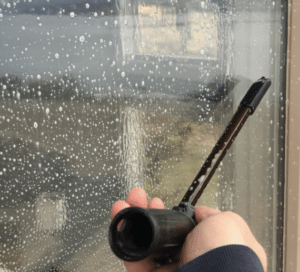 "What's your secret? What do you use to make the windows look so good?"
Ah, the question i am asked so very often. The secret is really not so secret. Do you want to know the answer? Okay I will tell you…
Sunlight soap. Nothing more than sunlight soap, good old water, and a squeegee. This is at least basically true. Yes, there are a variety of different chemicals for different situations, (ei hard water stains, paint, BBQ grease ect. ) but as a window cleaner sunlight soap is my best friend. The real trick is in the method of cleaning windows.
The window cleaning METHOD
Allow me to break down the steps:
First:
Typically, I use a strip washer to apply the soap and water to the window. Then a gentle scrub pad and some muscle washes away the filth. (Dirt, bug spots, finger prints, ect.) At this stage I also clean all the surrounding window frame.
Next:
Now, I squeegee. Squeegeeing off the water properly is essential in the window cleaning process. If you're really good at it you look like a ninja…a super awesome window cleaning ninja! The key is to leave no water behind. If water is left to dry on the window it will leave streaks or spots.
Then:
Ah detailing. This is SO IMPORTANT. It is the time to clean your edges. I use a lint free cloth to do this. I then clean the window sill, tracks, and any surrounding ledges. Basically, my goal is to make the window and the area around the window look better than before I was there. If the window has a screen, I also wash the screen and clip it back in place. The little details mean so much when it comes to quality.
Finally:
Look at what you just did! (Or look at what you didn't do!) This is the MOST IMPORTANT step. I have never met a perfect person. We all make mistakes and overlook things at times, so I double check my work. It's simple but so crucial.
Window Cleaning Technique TIPS
If you're doing it on your own don't expect to get it perfect the first time. Here are some tips to help you:
Safety First! Even on the smallest of ladders.

Use a Squeegee to remove the water

Practice, practice, practice

Work on your squeegee flow (see squeegee race video below)

Use a relaxed but firm squeegee pressure against the glass

Angle the squeegee properly so that the squeegee rubber doesn't leave water behind.

Use a lint free cloth to detail your edges

Wipe all frames and ledges to give the window a nice "finished" look

Any water that dries on the window will show up as streaks or spots

Avoid "buffing" the middle of a window with a cloth. This will almost always leave lint and spots